Agera PR is a public relations agency that aims to improve and strengthen relations with the stakeholders of our clients. We work with PR strategy as well as media relations and social media services, always focusing on getting results.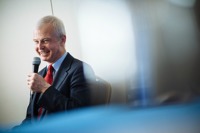 We specialise in marketing communications, primarily through the media as well as the social media. Our goal is to assist you in increasing your sales, building your brand and to improve your impact on your target groups. To achieve this we work with the press, online media as well as blogs and the social media.
- Media relations
Powerful and effective reach in online media as well as print, radio and TV through interviews, press meetings, opinion articles and more.

- Social media
We run your social media channels, building and maintaining the community.

- PR strategy
Analysing and advising on your communication strategy and tactics.

- Market and client research
Analysing your market, potential and existing clients, as well as the competition.

- Media analysis
Monitoring how your company, your brand and your industry are perceived in the media.

- Events
Arranging events to communicate your messages in suitable surroundings as well as preparing for and supporting you at key trade shows.

- Media training
Agera PR has experts that can improve your skills in handling the media.

- Crisis management
Preparing for an upcoming or present crisis and advising on how to manage it.
We will answer within 24 hours.